Top 10 French Actresses with that touch of elegance
Today I will be sharing with you my top 10 French actresses! When I talk to visitors, they usually tell me that French women are gorgeous, that they have a unique charm and an innate elegance. I have to agree with them. French women are indeed stylish women and they know how to highlight their natural beauty. If you would love to learn about secret tips from a Parisian girl, read this article.
French actresses end up being the image of French women in general for people around the world. Because they are famous, popular and usually very appreciated for their roles in the movies. Apart from being so beautiful, the French actresses I'm about to talk about, are very talented, generous and kind-hearted. They impressed the audiences with amazing roles in movies. So, here it goes, read on and find out my top 10 French actresses!
Marion Cotillard
Let's begin with the beautiful Marion Cotillard. You've probably already seen her in many successful movies, such as the sci-fi movie Inception, the superhero film The Dark Knight, La Vie en Rose movie which is a biopic about Edith Piaf, and the Woody Allen movie Midnight in Paris.
Marion has won many awards, a few Golden Globes, BAFTA, Cesar, but most importantly an Oscar in 2008 for the best actress category. Born in Paris in 1975, she grew up surrounded by artists. Both her parents were actors and drama teachers. Her childhood and her educational background was related to drama. As a young child, she was quiet and reserved. For her, the theater was the place she could really be herself and express herself.
Besides her acting career, she is very involved in environmental issues. She always helps the Greenpeace organization out and cooperates with the Maud Fontenoy Foundation which is an organization that teaches children to protect the ocean. She's also the ambassador of the French association Wayanga, that promotes the preservation of the Amazon indigenous people culture.
Marion Cotillard is definitely a great example. She leads a simple life and fights for the right causes!
>> Discover a few movie locations in Paris.
Léa Seydoux
The charming Léa Seydoux was born in Paris in 1985 and grew up in the Saint-Germain-des-Près neighborhood, which is located in Paris sixth and fifth district.
At first, she wanted to become an opera singer, but then at the age of eighteen years old, she decided to become an actress. That's when she entered the Enfants Terribles drama school and then, in 2007, went to New York and pursued her drama courses at the Actors Studio.
Some of her most famous movies are Blue is the warmest color, the Spectre movie of the James Bond series, Mission: Impossible – Ghost Protocol with Tom Cruise, and the Tarantino movie Inglorious Bastards. She also played in the 2014 Beauty and the Beast movie and in Midnight in Paris. Apart from acting, she models for many magazines and brands!
>> Join our Left Bank tour to discover the charming neighborhood.
>> Read this article to know a little more about Paris fifth district.
>> Check this article to discover some of the best things to do in Paris sixth district.
Catherine Deneuve
Next on my top 10 French actresses is Catherine Deneuve. This woman has received two Cesars for best actress, she also got nominated for an Oscar.
She grew up in a family of artists. She started acting at the age of thirteen years old. Her performance in Les Parapluies de Cherbourg, where she got to act with her sister Françoise, was very appreciated by the critics. That's when her career started and producers started wanting her in their movies.
During the seventies and the eighties, she worked with the best, with directors and producers like François Truffaut and Roman Polanski, but her performances were limited to French-produced movies at that time. In the nineties, she became internationally famous and became the vice-president of the Cannes Festival. Catherine Deneuve also was the muse of some of the biggest fashion and fragrances houses.
During her whole life, she fought for several causes and always supported important ones. Some of them were, for instance, the woman's right to abortion, the fight against death penalty and the marriage for everyone. She stands up for what she believes in and is considered as a role model and as one of the greatest actresses of her generation.
Mélanie Laurent
Mélanie Laurent was born in Paris. She's the daughter of a dancer and of a voice actor. One can say that her career really started when Gérard Depardieu saw her on the set of the movie Asterix & Obelix Take On Caesar. He offered her a role in his movie Un pont entre deux rives, and she accepted it. It was the beginning of her career as an actress.
She won a César award for "Most Promising Actress", but she's mostly known for her role in Quentin Tarantino movie Inglourious Basterds. That's probably where you know her from.
She's committed to the protection of the environment, so she directed the documentary film Demain. She won another César award thanks to this production.
She has participated in many projects and productions, she's very famous in France but still keeps her feet on the ground.
Sophie Marceau
Let me introduce you to Sophie Marceau. She's mostly known for French produced films but has starred in some other internationally known movies, such as Braveheart and A Midsummer Night's Dream. But the movies that really gave her success was the La Boum and La Boum 2 French comedies, where she got to be the lead actress at the age of thirteen years old.
Sophie Marceau is the godmother of the Arc-En-Ciel association, which objective is to fulfill the dreams of children that suffer from critical illnesses. She's a vegetarian and a great protector of animals and fights for animal rights and against cruelty towards animals.
Eva Green
Born in 1980 in Paris, she started her career as an actress in theater plays, where she even got a nomination in the Nuit des Molières, which is the annual French ceremony of national theatre awards.
She was noticed by the Italian director and screenwriter Bernardo Bertolucci, who gave her a leading role in his movie The Dreamers. Eva Green, then, got parts in blockbuster movies, such as Casino Royale of the James Bond series, the 300: Rise of an Empire movie, and the Tim Burton movie Dark Shadows.
From 2014 to 2016, she also played in the Penny Dreadful serie which was very well received by critics and fans alike!
Eva Green is fun and easy-going. These aspects of her personality allows her to give a special touch to each of her characters.
Charlotte Gainsbourg
Charlotte Gainsbourg was born in London in 1971. Her parents are Serge Gainsbourg and the gorgeous Jane Birkin. At the young age of twelve years old, she got a part in the movie Paroles et musique where she played the role of the Catherine Deneuve's character daughter. At the same time, she started singing with her father for the Lemon Incest album. But she truly gained popularity with her role in the L'Effrontée movie, in which her character kind of looked similar to her real personality: a young rebelious and neurotic girl. She even got a César award for "Most Promising Actress" thanks to her performance. The following years were very successful, she played in many movies that were well received by the critics.
Nowadays, she's still timid and still seems like a fragile girl, but the producers and directors love this image of her. Charlotte Gainsbourg got roles in movies, such as 21 Grams by Alejandro González Iñárritu, I'm Not There where she got to play alongside Heath Ledger, and several Lars Von Trier movies like Antichrist, Melancholia, and Nymphomaniac.
Brigitte Bardot
Brigitte Bardot is a French actress and singer. Internationally known for her initials "BB", she's considered to be one of the greatest sex symbols of the sixties and seventies.
At the end of the fifties, she starred in a movie called And God Created Woman that gave her notoriety in the cinema and fashion industry. The press loved her curves, her natural beauty and fashion sense. That's how she became an icon of her time.
Her outfits were always very simple, she didn't need much to impress! No makeup, no sequin dresses. Her cotton dresses always showed her cleavage. She cut the legs out of some denim jeans and walked the beach of Saint Tropez in them. All the women started to copy her.
The "madame" looks were definitely not for her, and didn't believe you needed haute couture to be stylish! Also, as she grew old, she refused to require to plastic surgery. Her contemporaries didn't understand. Eternal beauty and eternal youth never were her priorities.
She played in more than fifty movies, and most of them always contain some provocative scenes of her. When she retired from the entertainment industry and moved away from the public life, she became an animal rights activist. Since then, she struggles hard against cruelty towards animals.
She's the number one enemy of the fur industry! However, she also got involved in other issues. She joined the extreme right party and was condemned three times for racist and homophobic comments…
Laetitia Casta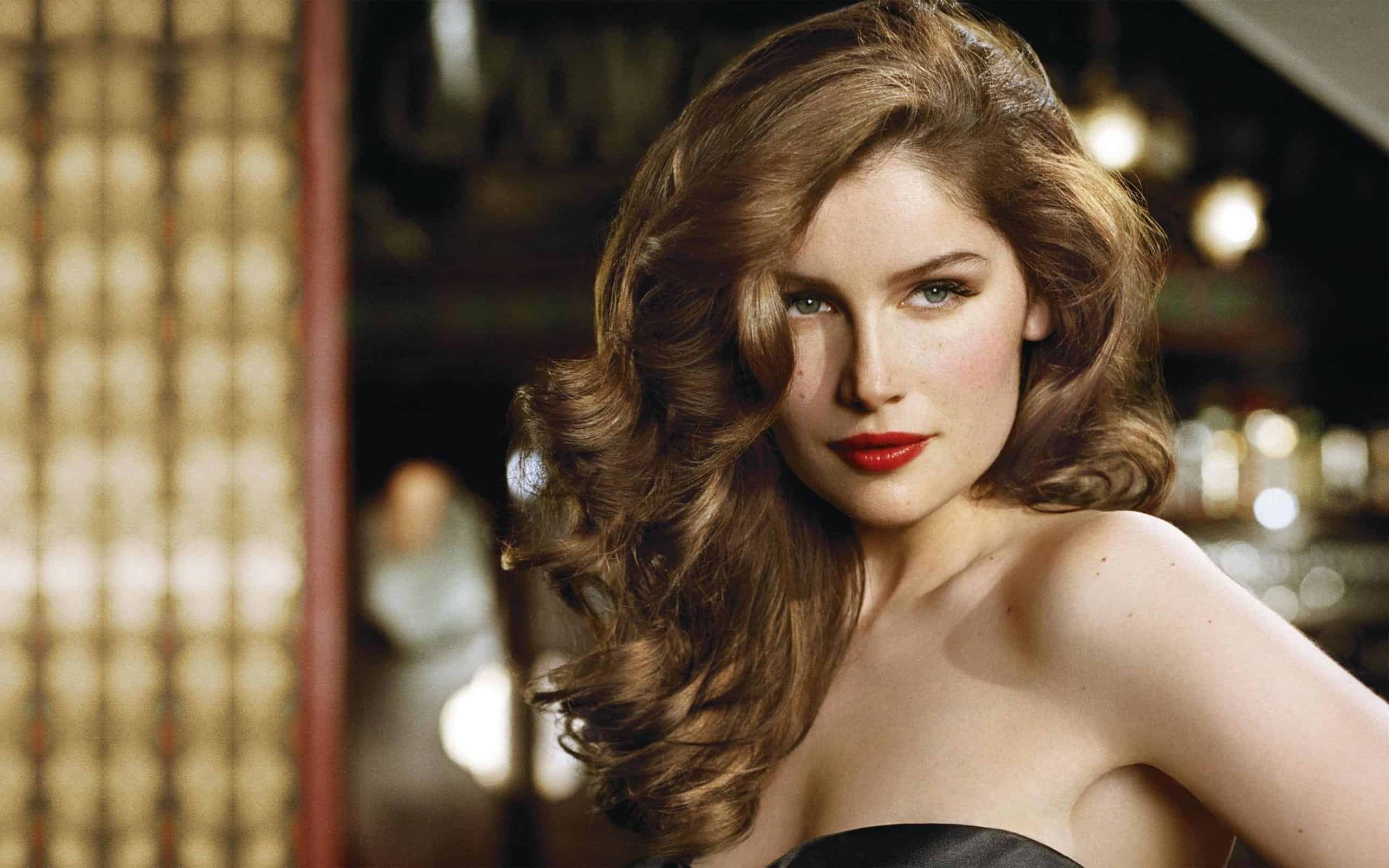 Laetitia Casta first started as a model. She signed her first professional contract with the Madison agency. She soon became an important figure for brands and fashion magazines. Laetitia was recruited for the world's greatest catwalks and became the muse of Jean-Paul Gaultier. She also was offered advertising contracts with prestigious brands, such as Victoria's Secret and L'Oréal.
She entered the cinema industry by the end of the nineties with a role in the Asterix & Obelix Take On Caesar movie. She, then, got parts in movies that were more serious, such as Les âmes fortes and La Jeune Fille et les loups. In 2011, she was nominated for a César award for the Gainsbourg movie where she played as Brigitte Bardot. Although, I have to say that she remains mostly known for French-produced films.
>> Read this article to learn more about Jean-Paul Gaultier.
Audrey Tautou
Have you ever seen the movie Le Fabuleux Destin d'Amélie Poulain? If you haven't, you definitely should! This movie is simply magical and will make you travel to the city of Paris. Audrey Tautou's career took off with this movie. She embodied the character of Amélie Poulain in 2001. The movie was an international hit, the freshness, the natural beauty of her character unveiled the talent of Audrey Tautou at a world scale.
She also acted in the 2006 Da Vinci Code movie with Tom Hanks. And in 2009, she got the leading role in the Coco avant Chanel movie, where she personified Coco Chanel. She's one of the highest paid actresses. If you haven't seen any movie with her in it, you should! Because you will be very impressed by her acting skills, her sensitive nature and delicacy!
>> Join our Montmartre tour to discover the café where Amélie Poulain used to work.
My top 10 French actresses is now over! I hope you've enjoyed reading this article. Feel free to share your favorite French actresses and favorite movies! Also, don't hesitate to contact us if you need further information about anything. I hope to see you soon in Paris in one of our tours, so we can explore some of the places in Paris that were used for some movies!