Free Walking Tours in Lisbon

Lisbon private tours & specialty tours
Our Lisbon tours are in English & run every day rain or shine
open on all public holidays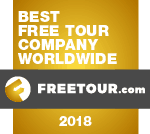 Before travelling to Lisbon
Lisbon is a great tourist destination. Old, colorful houses sit on a hill that gently stoops into the Tagus river. Seamen of the Age of Discoveries sailed off the Tagus to discover the New World. You will day-dream about the Discoveries when you visit.
Tourists also look to Lisbon for fresh and authentic tourism. The people of Lisbon are warm and hospitable. Visitors feel welcomed and appreciated.
As local guides, we see it every day. Visitors find things in Lisbon that they cannot experience anywhere else.
The city is very hilly. So it offers great vistas. But you should also expect to ride Lisbon's romantic trams to get to the top of these hills. Buy tickets anywhere. The public elevators are also a fun experience.
Finally, cozy cafés and warm sand beaches are never far.
The people are warm and the prices are low in Lisbon, so spend time touring with a local guide. This way you can get so much more out of Lisbon. Lisbon's free walking tours and Lisbon's private tours are both good. For the best guides, try and book in advance.
How to get to Lisbon
There are many ways to travel to Lisbon. The international airport is close to the city center. A lot of visitors also come by ship, as Lisbon is a major port for sea cruises. All five docks are within walking distance of the city center.
Where should you stay in Lisbon, what are the best neighborhoods?
Take note that the city is quite spread out. We recommend that you stay in the city center: the neighborhoods of Alfama, Chiado, Baixa and Bairro Alto. As a rule of thumb, we tell guests to stay within walking distance of Praça do Comercio.
Also, our city is safe – sometimes dirty, but very safe. Now make sure that your hotel is quiet enough, as the people of Lisbon live at night.
Life in Lisbon is very affordable, ahead of most destinations in Western Europe. Whether you pick free walking tours or private tours, Lisbon gives you great value for money.
Things to do in Lisbon
Lisbon in one day
The district of Belem is an open-air tribute to the Age of Discoveries, Do not miss the church. Its Gothic architecture is unique.
Alfama is a Moorish town, all white and winding. It is also the best place to hear a fado performance.
To be sure you don't miss these two, we run free walking tours there every day: check out our Alfama FREE tour and our Belem FREE tour. Be sure you put these two areas all the way to the top of your list.
Decorative ceramic tiles are a national Portuguese treasure. Lisbon's Tile Museum is unique. The medieval Saint George castle, and the terraces of Alfama, offer spectacular vistas.
Lisbon in two days
If you want to get out, consider Lisbon's day trips. There's the castles of Cascais or Sintra, or the sanctuary of Fatima.
No matter what you do, don't over-plan. Be sure you also spend time soaking in the atmosphere and enjoying the views. Also, the food in Lisbon is very creative, so try it. Among the more traditional foods you find Port wine of course ie cherry, and our custard tart. More surprising and unconventional is ginja liquor. If you join our Lisbon tours, free or private, we will tell you all about it. Let us customize a perfect day in Lisbon with our best day in Lisbon private tour.