Top 10 Famous people from Arkansas
Nicknamed The Natural State because of its diverse landscape that includes the densely forested land in the south known as the Arkansas Timberland, mountainous regions of the Ozark and Ouachita Mountains and the eastern lowlands along the Mississippi River and the Arkansas Delta.
Arkansas is bordered by Missouri in the north, Tennessee and Mississippi in the east, Louisiana in the south, and Texas and Oklahoma in the west. Its eastern border is almost completely formed by the Mississippi River. Its Capital City is Little Rock.
Arkansas' name came from the Quapaw Indians, whom the French called the "Arkansaw." People who live in Arkansas are referred to as Arkansans and Arkansawyers. The top 10 famous Arkansans are;
1. Bill Clinton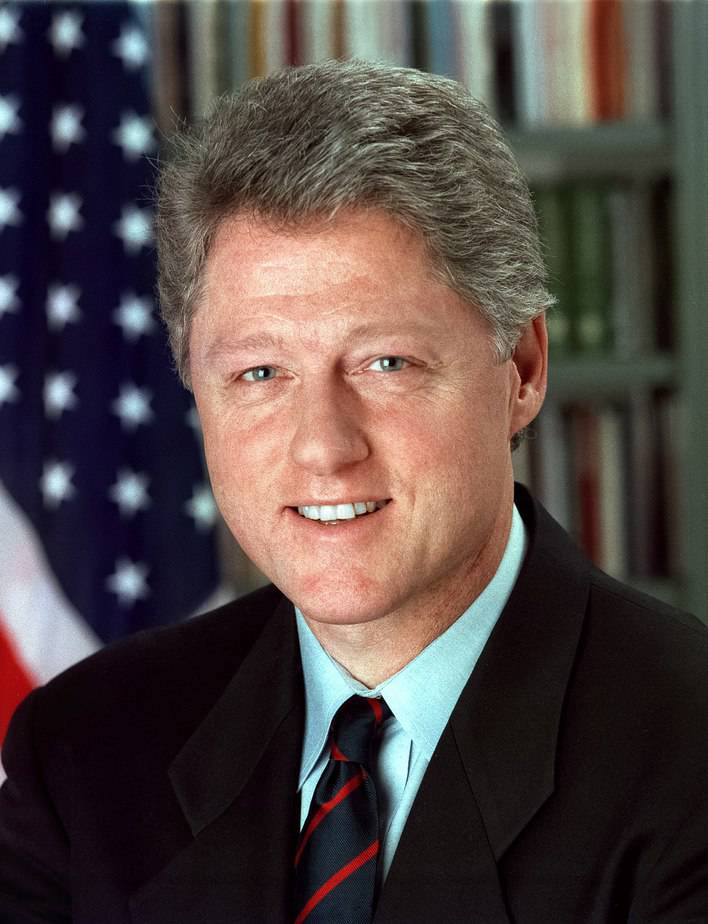 Bill Clinton served as the 42nd President of the United States from 1993 to 2001. William Jefferson Blythe III. Bill was born on 19th August 1946 in Hope, Arkansas, three months after his father died in a traffic accident. As a teen, he took his stepfather's surname and became known as Bill Clinton. His wife Hillary Rodham Clinton is a highly respected woman and is considered to be among the top most influential people in the world today.
During the administration of Bill Clinton, the U.S. enjoyed an era of peace and prosperity, marked by the lowest unemployment rate in modern times, the lowest inflation in 30 years, the highest homeownership in the country's history, dropping crime rates in many places, and reduced welfare rolls. He proposed the first balanced budget in decades and achieved a budget surplus.
Clinton's second term in office was dominated by the Monica Lewinsky scandal, which began in 1996. In 1998, Clinton was the second U.S. president to be impeached by the House of Representatives. He was tried in the Senate and found not guilty of the charges brought against him. He apologized to the nation for his actions and continued to have unprecedented popular approval ratings as the president.
After his 2nd term he remained active in public life, establishing the William J. Clinton Foundation to combat poverty, disease and other global issues.
2. Glen Campbell
Born Glen Travis Campbell on 22nd April 1936 in Billstown, Arkansas is a renowned American guitarist, singer, songwriter, actor and television host. This career span five decades, selling over 45 million records worldwide, including twelve gold albums, four platinum albums, and one double-platinum album.
Glen Travis Campbell began his career as a sessional musician in Los Angeles and because of his good guitarist skills he was in high demand to play in studio recordings. He worked with great musicians such as Elvis Presley (Viva Las Vegas, 1964), the Everly Brothers (Beat & Soul, 1965), Merle Haggard (Swinging Doors and the Bottle Let Me Down, 1966), and the Monkees (The Monkees, 1966). In 1967 Campbell's solo career began to take off with the hit song "Gentle on My Mind" (1967), which earned him two Grammy Awards that year and cementing his status as a crossover star with No. 1 hits. He was inducted into the Country Music Hall of Fame in 2005, and earned a Grammy Lifetime Achievement Award in 2012.
In June 2011 after being diagnosed with Alzheimer's disease he announced he was retiring from music due to the disease.
Apart from his music, Campbell is remembered for hosting The Glen Campbell Goodtime Hour on CBS television from 1969 until 1972. He died on August 8, 2017, at the age of 81.
3. Scottie Pippen
Scotty Maurice Pippen Sr is a professional basketball player who played 17 seasons in the National Basketball Association (NBA), winning six NBA championships with the Chicago Bulls. Born on 25th September 1965, in Hamburg, Arkansas.
Pippen is considered one of the greatest small forwards of all time, having played a main role on both the 1992 Chicago Bulls Championship team and the 1996 Chicago Bulls Championship team, which were selected as two of the Top 10 Teams in NBA History. He is the only NBA player to have won an NBA title and Olympic gold medal in the same year twice, having done so in both 1992 and 1996
He retired in 2004. The Bulls retired his number 33 on December 8, 2005. The University of Central Arkansas retired his number 33 on January 21, 2010. On August 13, 2010, he was a two-time inductee into the Naismith Memorial Basketball Hall of Fame, for his individual career and as a member of the "Dream Team. In October 2021, Pippen was honored as one of the league's greatest players of all-time by being named to the NBA 75th Anniversary Team.
4. Sister Rosetta Tharpe
Sister Rosetta Tharpe, an American singer, songwriter, guitarist, and recording artist, was born in Cotton Plant, Arkansas on March 20, 1915. She is referred to as the Godmother of Rock and Roll because her gospel recordings were characterized by a unique mixture of spiritual lyrics and electric guitar that was extremely important to the origins of rock and roll.
Sister Rosetta Tharpe was inducted into the Rock and Roll Hall of Fame in 2018.
5. John Grisham
John Ray Grisham Jr. is known as the author of more than thirty novels, one work of nonfiction, a collection of stories, and seven novels for young readers. He is celebrated, along with Tom Clancy and J. K. Rowling, as one of only three authors to have sold two million copies on a first printing.
Grisham was born in Jonesboro, Arkansas on 8th February 1955. After graduating from law school at the University of Mississippi in 1981, he began specializing in criminal defense and personal injury litigation. Inspired by cases and testimonies, Grisham started to write as a hobby. After three years, Grisham completed his first novel, A Time to Kill, in 1987 which was published in June 1989. According to the American Academy of Achievement, he has so far written 28 consecutive number-one bestsellers, and his books have sold 300 million copies worldwide.
In 1983, he was elected to the Mississippi state House of Representatives and served until 1990.
6. Johnny Cash
Nickname "The Man in Black" because of his trademark all-black stage wardrobe is a famous singer, songwriter and actor whose songs were characterized by themes of sorrow, moral tribulation, and redemption, especially in the later stages of his career.
J.R. Cash was born in Cleveland County, Arkansas on February 26, 1932. He later took on the name John at the insistence of an Air Force recruiter who would not accept only initials. During his time in the Air Force was where he learned some guitar chords and saw a film called Inside Folsom Prison that spurred his now-famous song, Folsom Prison Blues. After his discharge in July 1954, he teamed up with a couple of mechanics, Marshall Grant and Luther Perkins and become the front man for the group beginning hie music career.
His genre-spanning music embraced country, rock and roll, rockabilly, blues, folk, and gospel sounds. This earned him the distinct honor of being inducted into the Country Music, Rock and Roll, and Gospel Music Halls of Fame.
He passed away on 12th September 2003 and it is rumored his last words wer: "I hear the train a-comin"
7. Al Green
Albert Leornes Greene born April 13, 1946 in Forrest City, Arkansas, U.S better known as AI Green is a legendary singer, songwriter, pastor and record producer. Referred to as the "quintessential soul man" and "The Last of the Great Soul Singers"
This legendary gospel and soul singer is a 11 Grammy Awards winner; including the Grammy Lifetime Achievement Award, was inducted to the Rock and Roll Hall of Fame in 1995, he received the BMI Icon award and he is a Kennedy Center Honors recipient. He was included in the Rolling Stone list of the 100 Greatest Artists of All Time, ranking at No. 65 as well as its list of the 100 Greatest Singers, at No. 14.
8. Charles "Sonny" Liston
Charles L. "Sonny" Liston born May 8, 1932 in St. Francis County; Arkansas is an American professional boxer who competed from 1953 to 1970. He became the world heavyweight champion in 1962 after knocking out Floyd Patterson in the first round, repeating the knockout the following year in defense of the title.
Sonny was known for his toughness, formidable punching power, long reach, and intimidating massive physique that earned him the nickname "the Bear". He was the undefeated heavyweight champion before he lost his title on February 25, 1964, when faced off against Cassius Clay (Mohammed Ali). A rematch of the two resulted in an un-expected first-round knockout of Sonny.
Liston was inducted into the international Boxing Hall of Fame in 1991 and is still considered to be among the greatest heavyweight of all time.
9. Douglas MacArthur
Douglas MacArthur, born 26 January in Little Rock, Arkansas 1880, was an American general who commanded the Southwest Pacific in World War II (1939-1945), oversaw the successful Allied occupation of postwar Japan and led United Nations forces in the Korean War (1950-1953).
Macarthur received the Medal of Honor for his service in the Philippines campaign. This made him and his father Arthur MacArthur Jr. the first father and son to be awarded the medal. He was one of only five to rise to the rank of General of the Army in the U.S. Army, and the only one conferred the rank of field marshal in the Philippine Army.
10. Joycelyn Elders
Born Minnie Lee Jones in August 13, 1933 in Schaal Arkansas she changed her name to Minnie Joycelyn Lee while in college. Minnies is an American pediatrician and public health administrator who served as Surgeon General of the United States from 1993 to 1994.
She became the first person in the state of Arkansas to become board certified in pediatric endocrinology, the fifteenth U.S. Surgeon General, the second person of color and the second woman to head the U.S. Public Health Service.