Top 5 Most Beautiful Photographs of Paris Ever Taken
Paris has long been the muse of photographers and artists worldwide. There's just some magical feeling about the city that begs to be immortalized.
From the sparkling lights of the Eiffel Tower to the dimly-lit Bohemian streets of Montmarte, there's a timeless charm around every corner.
Though, with so many beautiful photos of Paris to choose from, it was almost impossible to narrow it down to the top 5! But I finally decided on a mixture of ancient and modern photos, to really contrast not only how the city has changed and evolved, and how photography has, too.
So without further ado, here are the top 5 most beautiful photographs of Paris ever taken.
1. Brassaï – View from Notre-Dame
Brassaï  took this iconic photo from the top of Notre-Dame, looking towards the Tour Saint-Jacques back in 1933.  This night scene is typical of his work, and captures a timeless image of the city.
Hungarian-born Brassaï grew up in Paris; falling in love with the ins and outs of nightlife during the Belle Epoque era. His notable photography career began at an early age, but in fact, Brassaï wore many hats and was successful as a sculptor, filmmaker, and a writer too.
Easily one of the most influential Paris photographers, Brassaï had a unique focus on nightlife; with a particular talent for capturing Parisian passerby in their element. One might say he was one of the first to showcase what went on in the city after hours.
It was this Paris by Night focus that won him fame, and he was constantly blurring the lines between fine art and street photography. In order to create his starkly contrasted night shots, Brassaï was always experimenting with light. He once said of night photography: "to gauge my shutter time, I smoke cigarettes. Gauloise for a certain light and Boyard if it's something darker".
2. Willy Ronis – Lovers of the Bastille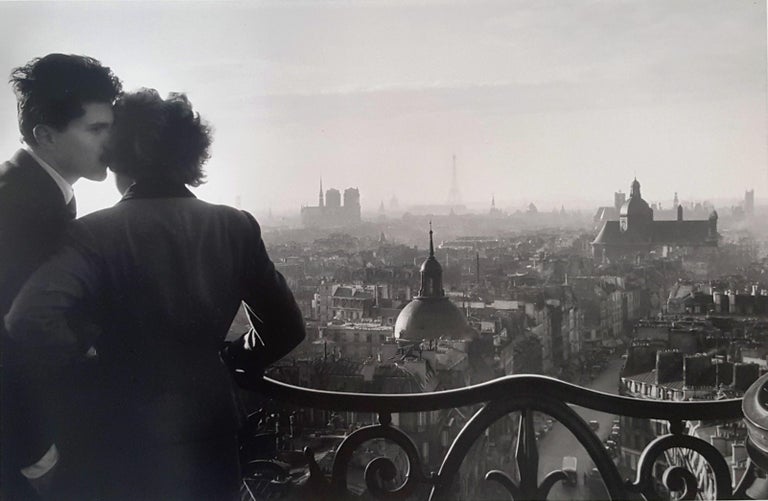 One of the last humanist French photographers, Willy Ronis was best known for his emotional portraiture like the 1957 photo above. Remembered for being gentle, kind and addressing everyone with tu rather than the formal vous; his friendly nature gave him an intimate look into life in post-war Paris. There's a certain emotion and intimacy communicated through Ronis' work which gives it an element of timelessness.
In my opinion, Lovers of the Bastille is certainly one of the top 5 most beautiful photos of Paris ever taken. This photo is emblematic not only of Ronis' work, but of the era and city itself.
Paris is known as the city of love, and the above photograph evokes this simply, but also pays tribute to the romance of the city. Beautiful wrought iron railings, the Eiffel tower in the background, and the anonymous couple make for a memorable combination.
3. Inge Morath – Etudiants Boulevard Saint-Michel
While this photo doesn't showcase Paris in the most traditional way, it illustrates the heart and soul of the city. Café culture has been a mainstay in Paris throughout the decades, as has student life. Especially on the literary Left Bank. A group of students are pictured here on a coffee break, and you can spot the iconic Pantheon in the background.
It's classic street style photos like these that helped Inge Morath stand out and excel in her career. She was one of the first women to make a name for herself in a then male-dominated photography world.
Born in Austria and raised between Europe and U.S.A., Morath excelled in photography from the get-go. She worked as a successful photojournalist, and worked with Henri Cartier-Bresson for several years. In 1953, Morath joined the prestigious Magnum photo agency (co-founded by Cartier-Bresson) and continued writing and photographing until her death in 2002.
4. Elliott Erwitt – Eiffel Tower 100th Anniversary
Elliott Erwitt made his mark on the Paris photography world by illustrating the playfulness and unexplored aspects of his native city. Growing up between Paris, Milan and the U.S.A., Erwitt developed a unique perspective in photography, and his style is illustrated in the photo above.
Taken in 1989 for the 100th anniversary of the Eiffel tower's construction, this is by far one of the top 5 most beautiful photos of Paris ever taken. Seeing Trocadero on a rainy day is already quite romantic. But Erwitt was a master of impeccable timing and captured a couple's embrace as well as a playful figure with an umbrella in the foreground.
Erwitt worked as a photojournalist, but was largely influenced by other Parisian greats, such as Henri Cartier-Bresson. His work centered largely on human emotion, and every one of his photos communicates an image as well as a feeling.
5. Ketevan Giorgadze – Parisian Apartment
This is the only modern shot I chose to include in the top 5 most beautiful photos of Paris ever taken. To me, this photo seems to sum up Paris in one shot. As they say, a picture is worth a thousand words. And this one includes romance, femininity, architecture, and even wine. Are there any French symbols missing? I don't think so.
Although this photo dates from 2019, it has a timeless look to it. It could have been taken seemingly anytime, which is why I love Ketevan's work. Originally from Georgia, this entrepreneurial young woman is perhaps better known by her Instagram handle, @katie.one. She creates wonderful images of Paris, focusing on editorial-style content (like the above photo) for clients all over the world.
Well now you know all about the top 5 most beautiful photos of Paris ever taken! I hope you enjoyed this article, and that these images are inspirational to you.
If you'd like to hone your photography skills in Paris, check out our photo workshop! You'll tour the city with a professional and create amazing images all while learning some helpful tips and tricks.
See you soon in Paris!