The Best Walking Route Through le Marais (with a map)
Out if all the neighborhoods in Paris, le Marais is probably the ultimate one to explore by foot.
Many of the streets are cobblestone and tightly knit; one looses the impact of them when venturing through by car. Not to mention the collective architecture and attractions that nestle between the streets.
In Parisian terms, le Marais is the trendiest district in the city center. It's a hub for fashion, for food and for the LGBTQ+ community within the French capital.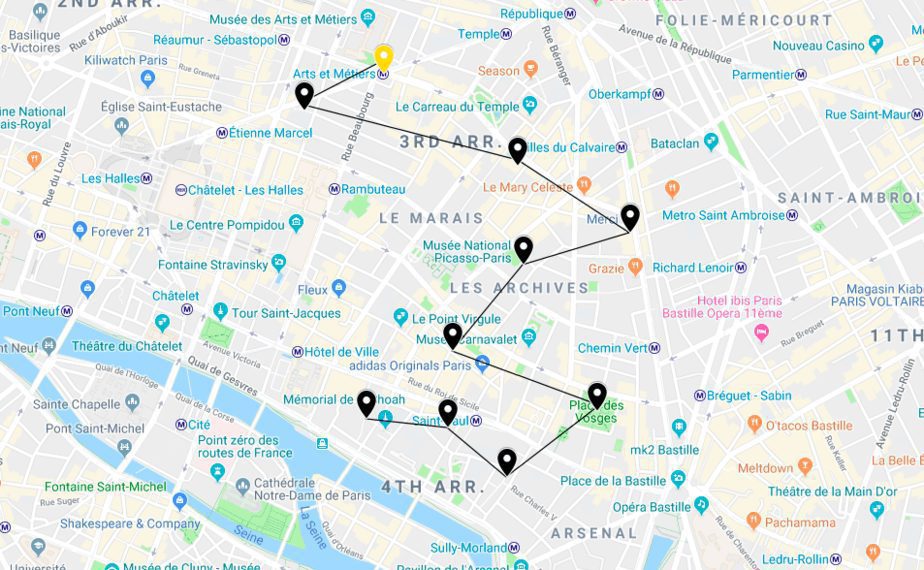 Since le Marais is quite small, there's no real wrong or right way to walk through the area. All roads tend to lead to the same main attractions eventually, and even going the wrong way never results in more than a five minute detour.
Nevertheless, here is exactly how I would give someone their first tour of le Marais by foot; and the unmissable attractions to make time for along the way. The following can usually be done in under 4 hours or less — it's a small neighborhood, as I said.
Start: Arts et Métiers Metro Station in le Marais
The district is le Marais is bordered on both the east and western boundary by multiple metro stations through which to arrive into the area.
I like to start in the north of le Marais and work my way south toward the Seine, and I find the metro stops on the western boundary the best places from which to enter. The Arts et Métiers is the easiest one to use coming from the rest of the city as it serves multiple lines.
From here you'll be in prime position to start making your way through the neighborhood without missing out on anything significant. A lot of free guided walking tour also begin around here to ensure optimum area exposure.
Passage de l'Ancre in le Marais
From the metro stop begin by walking directly south down the main road until you get to number 223 rue St-Martin. This is the best way to enter into the historic Anchor's Passage.
The passage is one of the oldest in Paris, and also one of the greenest. Throughout the city you'll find secret passageways just like this through which one can take a dreamy, city-removed stroll between the homes.
This particular one is green, colorful and almost enchanted. It's a short walk and a welcoming introduction to the less touristic part of le Marais community.
Marché des Enfants Rouges in le Marais
From the passage you'll then cut right through the neighborhood, west to east, until you come to the famous Marché des Enfants Rouges.
This is the oldest covered market in Paris and has been part of le Marais since 1628. Locals come here to do their weekly groceries, but passers by find great enjoyment in the many food options and fresh fruit displays.
Pick up a bag of cherries or strawberries to much on for the rest of your walk through the district. Note that the market is only open between Tuesday and Saturday, so give this point a skip if your walking on Mondays or Sundays.
Merci in le Marais
Merci sits on the eastern boundary of le Marais and isn't a far journey from the market.
I wouldn't call this an unmissable attraction within the district, but it is worth seeing since you're so close by!
Merci is a co-op store with many facets to it. As you walk in you'll find yourself in a massive cafe/library hybrid with the concept being to read any of the thousands of books while you dine.
Make your way through the back and you'll get to the rest of the Merci co-op; a design collective featuring interiors and fashion on multiple levels under a beautiful glass ceiling.
This spot has the power to rope one in for hours upon hours, without even realizing it! Be sensitive to time here if you want to see the rest of the walking route before the end of the day! You've been warned!
PRACTICAL INFORMATION
OPENING HOURS: Monday TO Saturday: 10am to 7:30pm
ADDRESS: 111 Boulevard Beaumarchais, 75003 Paris, France
METRO STATION: Richard Lenoir
Musée National Picasso in le Marais
Only about two blocks from Merci sits the iconic Picasso Museum of Paris. This is one of the most sought after attractions within the Marais neighborhood, brining hundreds of visitors each day.
The museum features a well curated collection of Picasso originals, as well as a wide range of sketches and process drawings.
It's a relatively small museum and can be done sufficiently in under an hour. Entrance will set you back €12.50; pricy, but then again it's Picasso! Visit on the first Sunday of every month and entrance is absolutely free!
PRACTICAL INFORMATION
OPENING HOURS: Tuesday TO Sunday: 9:30am to 6pm
ADDRESS: 5 Rue de Thorigny, 75003 Paris, France
METRO STATION: Chemin Vert
L'As du Fallafel in le Marais
Beaming south from Picasso, we head through to the most famous road in le Marais: the Rue des Rosiers.
This is the main strip known as the Jewish Quarter in le Marais and is famous for its many kosher restaurants, bakeries, souvenir stores and synagogues. Definitely pick up a croissant or two from one of the bakeries on this strip while you can!
On this road sits the L'As du Fallafel shop. A falafel sandwich store so good that even Lenny Karvitz has gone ahead and endorsed them. Grab a sandwich to go and head to the next stop on our route where you can sit and enjoy it.
PRACTICAL INFORMATION
OPENING HOURS: Sunday TO Friday: 11am to 12am
ADDRESS: 32-34 Rue des Rosiers, 75004 Paris, France
METRO STATION: Hôtel de Ville
Place des Vosges in le Marais
The Place des Vosges is le Marais' own public square. It's a beautiful green space comprised of four quadrants, each with fountains and grass on which to laze about.
This is a vibrant spot in the summer, both by day and by night. Find a quiet patch and settle in with your takeaways for a few minutes. A well deserved time of refreshment between the district walk.
The Place des Vosges is another attraction that is on the eastern boundary of the neighborhood. Directly to the right of it is the Bastille neighborhood, and to the left is the rest of le Marais.
Le Village Saint-Paul in le Marais
The Village Saint-Paul often goes unnoticed by quick foot travelers through le Marais.
It's a tucked away enclave that seems to be stuck in time compared to the rest of the modernity of this district.
It is the antique corner of le Marais, and throughout the cobblestone streets you'll find a number of antique retailers, art galleries and quaint little eateries. It's a lovely escape from the very tourist filled streets of the rest of the neighborhood.
Spend some time browsing the Parisian antiques and consider sitting for a few minutes in one of the coffee shops. Whether you're walking in summer of winter, these will be a welcome space in which to enjoy a hot or cold beverage before venturing onward.
PRACTICAL INFORMATION
OPENING HOURS: Wednesday TO Monday: 11am to 7pm
ADDRESS: Rue Saint-Paul, 75004 Paris, France
METRO STATION: Pont-Marie
Maison Européenne de la Photographie in le Marais
There are many, many significant photographic galleries situated around Paris. This one calls le Marais home, and can be explores at length in under an hour.
The exhibitions within the Maison Européenne de la Photographie are ever changing. They focus primarily on exposing contemporary works in photography and support up and coming French artists wherever possible.
The gallery is in the southernmost part of le Marais, not far from the Seine. This marks the second last stop on our walk through this district. If you were to make this your last stop, the Pont Marie is on the same road as the gallery, just further south. It will take you out of le Marais and onto the Notre Dame island, where you can see the cathedral in the flesh.
PRACTICAL INFORMATION
OPENING HOURS: Wednesday TO Sunday: 10am to 8pm
ADDRESS: 5/7 Rue de Fourcy, 75004 Paris, France
METRO STATION: Saint-Paul
End: Rue des Barres in le Marais
Finally we finish with a short stroll west into the Rue des Barres quarter.
This is one of the oldest streets in the district and represents the medieval elements of le Marais that live on to this day. The quarter is filled with timbered houses, old medieval churches and old stone walls.
To end off your le Marais walk, spend some time in the L'Ebouillanté restaurant within the medieval quarter; either for a refreshment or light snack. The outdoor terrace puts you in prime position to experience the Rue des Barres in its authenticity.
Again, the Pont Louis Philippe is a short walk south from here and will take you onto the Notre Dame island as well . This is where le Marais comes to an end — and you've walked it all!