Top 10 Most Popular Turkish Actresses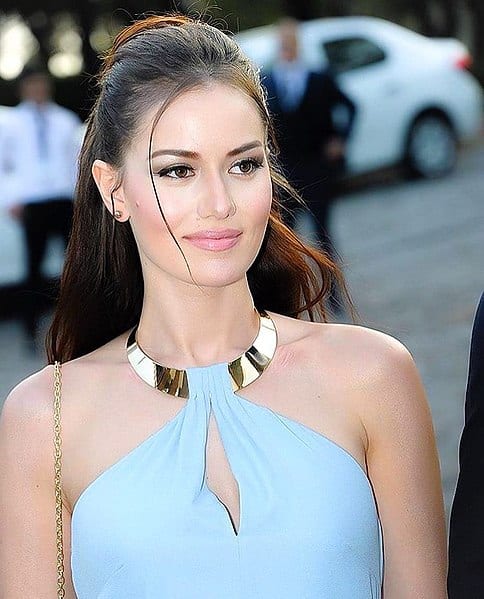 Originally published by Gonenc in July 2020 and Updated by Ruth in August 2022
Turkish cinema has a history of more than 100 years. After the introduction of cinema to the residents of Istanbul at the end of 20th century by foreign visitors, first Turkish cinematic pieces were shot by Ottoman soldiers for documentation purposes.
On the other hand, first films with a story and solid scenario were shot by a journalist named Sedat Simavi. Mr. Simavi, who was only 20 years old, shot two movies titled "Pençe" (Paw) and "Casus" (Spy) in 1917.
After the establishment of the Republic in 1923, Turkish cinema began to blossom and produce talented writers, directors, and producers with a broad vision.
However, the biggest strength of Turkish cinema has always been Turkish actors and actresses. Many talented names contributed to the Turkish cinema industry even though most of them were not recognized in foreign countries due to the limited distribution of Turkish movies abroad. Many Turkish actresses began to have an impact in foreign markets due to the invention of the internet and globalization of art worldwide in the 2000s.
In this article of "Top 5 Most Popular Turkish Actresses", we will focus on Turkish female leads who proved themselves on a national and international level.
1. Türkan Şoray: The Sultan of Turkish Cinema
In our list of "Top 5 Most Popular Turkish Actresses", no one, other than Türkan Şoray, could deserve the first place.
Türkan Şoray (a.k.a. The Sultan) is a living legend for Turkish moviegoers. Şoray, born in 1945, has been the most influential and dominant female figure in Turkish cinema since the 1960s.
Türkan Şoray began her acting career in 1960 in a movie titled "Aşk Rüzgarı" (Wind of Love). In a period of 10 years, she took leading roles in 114 movies.
Şoray kept acting in dozens of movies during the 70s, 80s, and 90s. She worked with renowned Turkish movie directors like Metin Erksan, Memduh Ün, Halit Refiğ, and Atıf Yılmaz. Her impressive acting helped movies like "Selvi Boylum Al Yazmalım" (The Girl with the Red Scarf), "Vesikalı Yarim" (My Prostitute Love), "Acı Hayat" (Bitter Life), "Devlerin Aşkı" (Love of Giants) and "Baraj" (The Dam) become huge box office successes.
Şoray also won several awards in respected movie festivals. She won 4 best actress awards at Antalya Golden Orange Festival (known as Turkish Oscars) for her brilliant performances in "Acı Hayat" (Bitter Life), "Vesikalı Yarim" (My Prostitute Love), "Hayallerim, Aşkım ve Sen" (My Dreams, My Love and You) and "Bir Aşk Uğruna" (For the Sake of Love).
Aside from acting, Şoray also directed remarkable movies like "Dönüş" (The Return), "Azap" (The Torment), "Bodrum Hakimi" (Judge of Bodrum), "Yılanı Öldürseler" (To Crush the Serpent) and "Uzaklarda Arama" (Don't Look For It in the Distance). For her directing debut at "Dönüş" (The Return), she received Grand Jury Prize at Moscow Film Festival in 1973.
In those years, Turkish movies were shot very quickly with very brief production phases. So, it was possible for actors and actresses to star in so many films in a year. Thanks to those fast productions, Türkan Şoray is the number actress in the world with most appearances as a female lead. In her career, Şoray has stared in 222 different movies in a leading role.
Şoray also starred in TV series like "Tatlı Hayat" (Sweet Life), "İkinci Bahar" (The Second Spring), and "Cemile" during the 2000s, which received high ratings and helped her to gain the hearts of young audiences.
Even though Şoray starred in many movies with social and ideological content, audiences loved her mostly for her roles in romantic movies. Şoray has gained the admiration of movie lovers thanks to her convincing performances in movies based on love stories and romantic plots.
As for today, Türkan Şoray is recognized as the most dominant and strong female character in Turkish cinema history. She is one of the few actresses that have the approval of both audiences and movie critics at the same time.
2. Filiz Akın: The Western-style Girl Turkish Cinema was Looking for
As for today, Filiz Akın is an important figure for Turkish movie lovers even though she hasn't been involved in movie making since 1975. Filiz Akın had been such a huge legend during the 60s and 70s that even today, movie lovers talk about her with love, respect, and admiration.
Akın began her acting career in 1962 by winning a competition organized by the "Artist" magazine in Turkey. As the winner of this competition, she was given the leading role at a movie titled "Akasyalar Açarken" (While Acacias Were Flourishing). Akın's successful performance opened the doors for her to star in more movies like "Umutsuzlar" (The Hopeless Ones), "Ankara Ekspresi" (Ankara Express), "Utanç" (Shame), "Dağlar Kızı Reyhan" (Reyhan: Girl of the Mountains) and "Yankesici Kız" (The Pickpocket Girl). Thanks to her performance at "Ankara Ekspresi" (Ankara Express), she won the best actress award at Antalya Golden Orange Film Festival in 1971.
Between 1962 and 1975, Filiz Akın played in 114 movies. Thanks to her brilliant performances in that era, even though she quit the movie sector in 1975, she is still remembered as a legend.
Akın had natural blonde hair and looked like a European girl rather than a Turkish girl. This appearance attracted the attention of film producers and Akın played the "modern, "secular" and "educated" woman roles. Akın was coming from an aristocrat family and was an educated person who could speak French, English, and Italian. It didn't take too much time for her to be a role model for Turkish women who admired her lifestyle.
Akın quit acting in 1975 and decided to focus on her private life. However, even today, she is regarded as one of the greatest Turkish actresses of all time.
3. Belgin Doruk: The Actress with Sorrowful Eyes and Life
Belgin Doruk is another iconic name in our list of "Top 5 Most Popular Turkish Actresses". Even though Belgin Doruk had her best days in the 50s, 60s, and early 70s, she is still remembered as a legend by movie lovers.
Doruk began her acting career in the movie "Çakırcalı Mehmet Efe'nin Definesi" (The Treasure of Çakırcalı Mehmet Efe) in 1952. After that, she starred in 88 movies until the end of her career in 1973. Her movies like "Öldüren Şehir" (The Killer City), "Samanyolu" (Milky Way), "Kırık Plak" (Broken Record), "Küçük Hanımın Şoförü" (Driver of the Damsel), "Bahçevan" (The Gardener), "İstanbul Kaldırımları" (Sidewalks of Istanbul) and "Kanlı Nigar" (The Bloody Nigar) had huge box office successes while making her a superstar in Turkish cinema industry. She also won a best actress award at Antalya Golden Orange Film Festival in 1970 for her performance at "Ayşecik: Yuvanın Bekçileri" (Ayşecik: The Watchers of Home).
Doruk had always attracted the attention of the public throughout her acting career. While she was a highly admired name in Turkish cinema, she also hit the headlines of gossip newspapers. Due to her health problems and problematic private life, she left the movie industry in 1973 at an early age. However, she has always been remembered as a legend by Turkish movie lovers.
Belgin Doruk mostly played in romantic movies and avoided taking part in socially and ideologically heavy films. She impressed audiences with her touching performances in love movies. Especially the sorrowful look in her eyes and emotionally impressive performances drove millions of people to movie theatres.
Belgin Doruk lost her life in 1995 due to a heart attack. As for today, she is recognized as one of the most remarkable figures of Turkish cinema history.
4. Tuba Büyüküstün: The New Icon of Acting in Turkey
Tuba Büyüküstün is one of the youngest names in our list of "Top 5 Most Popular Turkish Actresses". Unlike older stars in Turkish cinema, Büyüküstün has become famous due to her performances in Turkish TV series.
Tuba Büyüküstün began her acting career when she was a college student. She first appeared in TV commercials. After graduation, she took her first role in a TV show titled "Sultan Makamı" (Warble of the Sultan) in 2003. Following this show, she starred in a famous TV production titled "Çemberimde Gül Oya" (The Rose and the Thorn) which became a sensational hit in Turkey. Büyüküstün later improved her career in TV series like "Ihlamurlar Altında" (Under the Lime Trees), "Asi" (The Rebel) and "Gönülçelen" (Delilah). As Tuba Büyüküstün became a major name in Turkish film industry, she took the leading roles in big hits like "Kara, Para, Aşk" (Black, Love, Money) and "Cesur ve Güzel" (The Bold and the Beautiful) . In 2020, she appeared in Netflix series "Rise of Empires: Ottoman".
Even though Büyüküstün made a name with Turkish soap operas, she also took part in movies too. She brightened her star in box office successes like "Babam ve Oğlum" (My Father and My Son), "Sınav" (The Exam) and "Istanbul Kırmızısı" (The Red of Istanbul).
While she has become an important name in the Turkish film industry, Büyüküstün also hit the headlines in foreign countries. She has become a superstar in Middle Eastern countries and in Balkans. She even received several awards in countries like Serbia, Italy, and the United Arab Emirates.
Büyüküstün showed her skills in politically motivated movies as well as soap operas. Her performances in "Çemberimde Gül Oya" (The Rose and the Thorn) and "Rüzgarın Hatıraları" (Memoirs of the Wind) proved that she is much more than a soap opera star. As for 2020, Büyüküstün is one of the few actresses who has a massive fanbase both in and out of Turkey.
5. Bergüzar Korel: The New Generation Superstar in Turkish Film Industry
Just like Tuba Büyüküstün, Bürgüzar Korel is another new generation actress in our list of "Top 5 Most Popular Turkish Actresses".
Bergüzar Korel, born in 1982, began her acting career when she was a college student at Mimar Sinan University, Acting School. In 1998, she appeared in a soap opera called "Kırık Hayatlar" (Broken Lives). Later, she took an important role in a movie titled "Kurtlar Vadisi: Irak" (Valley of the Wolves: Iraq) which broke the box office record in Turkey in 2005. Due to her success on the big screen, she was chosen for the leading role in a soap opera titled "Binbir Gece" (A Thousand Nights). As "Binbir Gece" became a massive hit in Turkey, it was also exported to foreign countries. Thanks to the screening of "Binbir Gece" in abroad, Bergüzar Korel has become a superstar in Middle Eastern and Balkan countries. In a short period of time, Korel established a huge fanbase in abroad. Thanks to these loyal fans, Korel became one of the most wanted names in Turkish TV and movie industry. After that show, Korel took the leading roles in TV series such as "Muhteşem Yüzyıl" (The Magnificent Century), "Karadayı" and "Vatanım Sensin" (You are my Homeland). Korel also starred in movies like "Aşk Geliyorum Demez" (Love Comes Suddenly) and "Bir Aşk, İki Hayat" (One Love, Two Lives).
Even though Bergüzar Korel is a politically and socially active person in her private life, she mostly appeared in romantic productions on TV and cinema. She avoided from movies and TV series which had an ideological content.
As for today, Korel is one of the most successful Turkish actresses who have millions of fans in and out of Turkey.
6. Beren Saat: One of Turkey's Highest paid Actresses
Beren Saat is a Turkish actress born and raised in Ankara. Since the beginning of her career, she has received critical acclaim and numerous accolades for her acting.
While studying at Başkent University, she participated in the acting competition Türkiye'nin Yıldızları and was discovered by Turkish director Tomris Giritlioğlu, launching her professional acting career.
Saat was the highest-paid actress in Turkey from 2008 to 2014. She has participated in several movies as a voice actor. She was named Actress of the Year in the 2010 Damgasını Vuranlar list published by Radikal newspaper. In addition to her acting career, Saat is noted for her charitable efforts.
7. Esra Bilgiç: The Consumer Brand Ambassador
Esra Bilgiç is a Turkish actress. She is best known for portraying the role of Halime Hatun in the Turkish historical adventure television series Diriliş: Ertuğrul from 2014 to 2018. Among other roles, she starred in the 2020-21 crime drama Ramo.
She also appeared in Bir Umut Yeter alongside Tolgahan Sayışman and Hazal Subaşı. In 2020, Bilgiç appeared in a leading role in the Turkish film Adanış Kutsal Kavga with co-star İsmail Filiz. She is the female lead in the Turkish crime-drama television series Ramo with co-star Murat Yıldırım.
Outside of Turkey, Bilgiç has seen wide popularity in Pakistan, leading her to become the brand ambassador of the Pakistani cricket team Peshawar Zalmi, consumer electronics company QMobile and mobile network provider Jazz in 2020.
From September 2021 until February 2022, she shared the lead role in the period drama Kanunsuz Topraklar with actor Uğur Güneş. The series was canceled after 16 episodes due to poor ratings. In March 2022, Bilgiç appeared in Victoria's Secret commercial for the Love Cloud collection.
8. Tuba Büyüküstün : Award Winning Turkish Actress
Tuba Büyüküstün is a Turkish actress. She is the recipient of several awards and is one of Turkey's most popular actresses.
Following appearances in television commercials, Büyüküstün made her television series debut in 2003 on the last four episodes of Sultan Makamı, directed by Aydın Bulut and broadcast on Channel D. Her next series role was Zarife on Çemberimde Gül Oya, directed by Çağan Irmak, broadcast on Channel D in 2004.
In 2010, her first leading role in cinema was Esma in Yüreğine Sor by Yusuf Kurçenli. Following this, she acted with Cansel Elçin in the series Gönülçelen. At the end of 2012, she starred alongside İlker Aksum in the dramatic series 20 Dakika (20 Minutes), a performance that earned her a nomination for the 42nd International Emmy Award for Best Actress.
9. Hande Erçel: Miss Civilization of the World of Beauty
Hande Erçel is a Turkish actress and model. She is mainly known for her roles in Güneşin Kızları, Aşk Laftan Anlamaz, and Sen Çal Kapımı, managing to gain over the years more and more national and international recognition, and numerous official and unofficial awards. In 2012, Hande Erçel was crowned Miss Turkey.
Hande Erçel made her debut as a supporting actress in the series Çalıkuşu (2013-2014). She had other supporting roles in series such as Çılgın Dersane Üniversitede (2014). She became more known in the Turkish field when she played Selen Karahanlı in Hayat Ağacı (2014). After her success playing Selin Yılmaz in Güneşin Kızları, she got other leading roles in series such as Aşk Laftan Anlamaz, Siyah İnci (2017-2018), Halka (2019), Azize (2019) and Sen Çal Kapımı, sold to more than 90 countries.
Throughout her professional career, Hande Erçel has managed to be the youngest Turkish artist to have the highest number of awards (official and unofficial) in the Turkish industry, and the Turkish artist with the most followers on a social network, with 28.6 million followers and climbing.
10. Neslihan Atagül: The Actress with the most sold out Series
Neslihan Atagül Doğulu is a Turkish actress. She is best known for her role in Kara Sevda, a series sold to more than 110 countries and the only Turkish winner of the International Emmy Award.
Throughout her acting career, she has received numerous awards and accolades, including the Academy Award for Best Actress at the Tokyo International Film Festival.
Conclusion
As it is seen in our article, the older female stars had made their way to the top by acting in feature films while, currently, new generation actresses are mostly becoming famous due to their participation in TV series and soap operas. Furthermore, great actresses like Türkan Şoray, Filiz Akın and Belgin Doruk has a fanbase mostly in Turkey while new generation names like Tuba Büyüküstün and Bergüzar Korel also have millions of foreign fans in other countries. As communication technologies are improving day by day, Turkish actresses are enhancing their influence area to countries in Balkans, Middle East and even Latin America. For example, Korel's "Muhteşem Yüzyıl" (The Magnificent Century) was exported to more than 70 countries including the USA, China, Italy and Poland by reaching an audience of 350 million while Büyüküstün's "Kara, Para, Aşk" (Black, Money, Love) was exported to 107 different countries all around the world, opening the way to Turkish actresses to become global superstars.