10 Beautiful French Regions to Visit
France is one of the most geographically diverse countries in Europe, and each of the country's 13 regions has something unique to offer. From rolling vineyard hills to arid lavender plains, to scraggly snow-capped mountain peaks and seemingly endless dreamy coastlines, you can find it all in France! While relatively small in area, every region is unique and has its own cuisine, customs, and sometimes even its own French dialect. But which regions should you discover first? Here's a local guide to 10 beautiful French regions to visit, and why.
1. Bretagne
The Brittany peninsula makes up the country's westernmost region, running along the Atlantic coast and dipping into the English Channel. If you're someone who loves getting out in nature, then this is the French region for you!
The Breton landscape and climate are some of France's harshest, though nevertheless beautiful. Rugged coastal cliffs are dotted with lighthouses, while the calmer seaside town of Saint-Malo is especially popular with holidaymakers. Bretagne is also known for its many natural parks, which offer excellent hiking and biking trails. And don't forget to try a galette au sarrasin or savory crêpe while in Bretagne, it's the regions' most iconic dish.
2. Ile de France
Of course, Ile de France contains Paris and is perhaps France's most well-known region because of it. But you should know, there is plenty more to discover beyond Paris in this beautiful French region. The Château de Versailles is one of the most-visited sites in Ile de France, but there are plenty of charming small towns and villages to visit here too, making for a perfect day trip from Paris. The villages of Chevreuse, Senlis, Provins, and Samois-sur-Seine are some of my favorites.
3. Bourgogne Franche-Comté
If you're a foodie and could only visit one French region, I would recommend Bourgogne Franche-Comté for sure. Situated in the central-eastern portion of the country, this region is well-known for all things food and wine. Burgundy is covered with exceptional vineyards, and farmlands producing just about any classic French delight you can think of. And this region is where many famous French foods originated, such as escargots, Boeuf Bourgignon, Comté cheese and Dijon mustard to name a few.
4. Corsica
Easily one of the most beautiful French regions, Corsica is an island in the Mediterranean between France and Italy, and while technically French, Corsica has heavy influences from both cultures. Locals will be the first to tell you their region is the most beautiful, and a must-visit. I might be tempted to agree!
This island region boasts a little of everything in terms of landscape. Tall mountain peaks jut out of dense green forests, and over half the island is actually part of a natural park. And of course, being a Mediterranean island, the beaches here are some of the country's most picturesque.
5. Grand Est
As you probably guessed from the name, this beautiful French region includes ten departments, notably Lorraine, Champagne, and Alsace. Grand Est makes up the Northeastern section of the country, along the border with Germany. Being so close to Germany, the Alsace department of Grand Est features a blended culture when it comes to local cuisine and architecture. Dishes like choucroute and flammekeuche are mainstays here. If you want to get a taste of Alsace, the towns of Strasbourg and Colmar are especially charming with their canals and Medieval architecture.
6. Normandie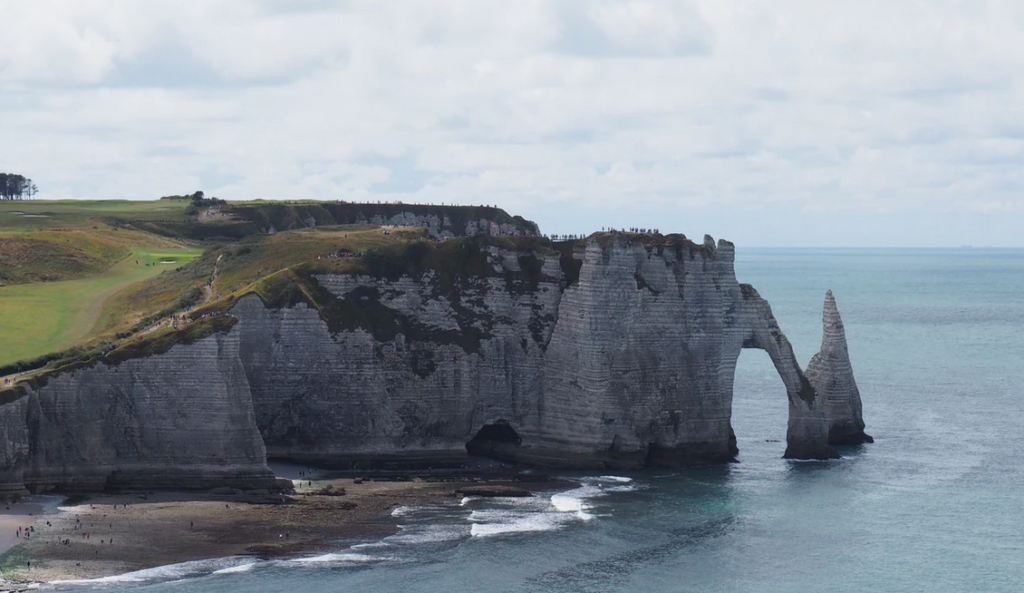 Easily one of the largest and most beautiful French regions, Normandy is perhaps also one of the most famous thanks to its rich history. Plus, it boasts the closest beachfront to Paris, so seaside towns such as Deauville are a popular getaway with Parisians. There's plenty to see and do in Normandy, from the Mont-Saint-Michel to the D-Day landing beaches, the Medieval Museum, the cliffs of Etretat, and of course, the small villages such as Giverny that inspired many of the Impressionists.
7. Auvergne-Rhône-Alpes
Located in the lower Eastern quadrant of France, the Auvergne-Rhône-Alpes region is a must-visit. Home to the Alps and France's famous ski stations like Megève and Chamonix, this beautiful region also borders Switzerland and Italy, resulting in a truly delightful cultural mélange.
If skiing in the french alps isn't your thing, don't worry! There's plenty more to see and do in this region. Lyon is the region's capital city and is known for its incredible gastronomic cuisine and rich arts scene. And heading closer to the border, you'll find the gorgeous town of Annecy, which is built around a magnificent lake.
8. Provence-Alpes-Côte-d'Azur
This beautiful French region spans from the Southern Alps to the famed Côte d'Azur seafront, sharing a border with Italy and Monaco. From the truly Southern village vibes in Aix-en-Provence and the gorgeous surrounding lavender fields to the splendor of the many national parks, and finally, to the glitz, glam, and stunning beaches of the French Riviera. With cities like Aix-en-Provence, Castellane, Nice, Saint-Tropez, and Cannes; there's something for everyone to enjoy in this region.
9. Pays de la Loire
Situated in the center of France, Pays de la Loire is a must-see region if you're interested in French history and architecture. This region is not only famous for producing excellent wine but for the hundreds of castles or châteaux scattered across its verdant Loire Valley. Most of the castles date back to the French Renaissance, and the area was a popular escape for royals and nobility. Today, most of the châteaux are open to the public, and if you plan well you can easily fit a few into a day trip.
10. Nouvelle-Aquitaine
The stunningly beautiful Nouvelle-Aquitaine region covers the southwestern portion of France, along the Atlantic coast. This region covers the Basque country, between France and Spain. The culture and history here are especially unique and combines Spanish, French, and Basque elements.
Home to the charming city of Bordeaux (and the area's world-class wines), plenty of Mideivel châteaux, and France's surf towns like Biarritz, Nouvelle-Aquitaine is a laidback region – perfect for a relaxing weekend getaway.
So, which beautiful French region will you visit first?